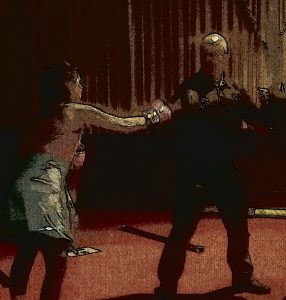 As I was preparing to enter 148 Ministries' first weekend working with the clients at the Hope Center Indy, I had no idea what kind of effect it would have on me personally. I adhered to my normal sermon prep routine, I prayed for wisdom in an unfamiliar setting, and I stepped out with faith that God would lead. I had no idea just how unprepared I was for the unsettling reality I would be forced to confront, and that the lesson would be mine to learn.
The Hope Center Indy houses and rehabilitates women of all backgrounds who have been victims of human trafficking. All through Friday and Saturday we got to know the girls. I spoke multiple times about the value God places on us, we shared personal testimonies, we shared workouts, and at one point, my wife offered me as a human punching bag. She has this belief that most women would be better off if they could hit things really hard, so, with my core braced and arms padded, I offered myself up. And yet for me, one of the most profound things that happened that day was a simple note, casually written on a sticky pad, shoved in an envelope with my name scrawled across it, and handed to me as we were packing to leave. I had not realized it at the time, but the women and girls had written us each a few sentences anonymously throughout the weekend and it was these that our host had unexpectedly given me as we left. It wasn't till I got home that I was able to read them. They were all unbelievably kind and overwhelmingly precious.
And then I came to the note that changed the way I look at women, the way I see men, and the way I confront sin. It revealed to me the true, honest, and very raw perspective these girls have towards the men who should have protected them, but instead, have scarred them. It read:
"You give me hope that I won't always feel uncomfortable near men. You seem to be pure in your thoughts and not a predator; which I thought was impossible. I thought all men were perverted. Thank you for not making me feel "looked at." I see Christ in you!"
I finished reading and I froze. Standing in the kitchen, holding the little sticky note, my stomach turned as my head searched for understanding. In that moment, just to be honest, I never wanted to look at a woman ever again… ever. A "predator" can be defined as "an animal that naturally preys on others" or "a person that ruthlessly exploits others." So which one of those definitions describes men? Probably both.
Satan is also described as a predator…the ultimate predator, a Lion. In 1 Peter 5:8, the Bible tells us that "Satan prowls around like a roaring lion, looking for someone to devour." In other words, Satan is a methodical hunter who is intentionally looking for ways to cause Jesus' followers to stumble and sin. He is quiet. He is calculating. He is patient. He is going about his work as if his life depended on it, and He is hungry. He does not strike when we are healthy and surrounded with protection; He strikes when we are weak, wounded, and alone.
Men, do we have the courage to confront that kind of predator …and do we have the self-awareness to recognize when it's us? Before you dismiss the ugly possibility, examine your heart, your mind, and your motives. It doesn't have to be physical or sexual abuse. There are many ways to devour.
Ask yourself, as a Christian man, do I do the same thing to women? As a predator, do I seek women out to exploit them and cause them to sin?
…Too strong?
Ok, how do you think of women? Do you hide your thoughts in the safe stalking ground of your mind, using them secretly and justifying it deliberately?
…Still too strong?
Ok then…do you manipulate your wife or girlfriend in a way that is demeaning and devaluing to her as a person, as a wife, as a mother, and as a child of God? Do you use guilt to get your way? Do you use anger and lack of self-control to intimidate? Do you deny her gifting and purpose to pursue your own? In the hierarchy of your love, are her needs a priority or a pawn? Do you protect her heart, or do you prey upon her emotions?
I went last weekend to teach these women about how God sees them…I left questioning how I have viewed women all my life. Questioning how women must navigate this exhausting narrative all their lives. I left, analyzing my thoughts and actions, and I left with a mind that is reinforced against the schemes of the predator.
Check your motives men of God. Take every thought captive. Where we are called to protect, love and cherish, we have earned the title of predators. We are called to be providers, leaders, or spiritual examples, and yet, most women have learned that we are not worthy of their trust. This culture has always been a consumer of women and yet we have not stood up against it as protectors. We are as guilty as the men who abuse, and sell, and exploit our sisters if we continue to refuse or underestimate our God given roll to reflect the heart of Christ in our relationships toward them.
So, which category do you fit into? Predator or Protector? And will you choose to see where God is calling us all to examine our hearts as we navigate a broken world.