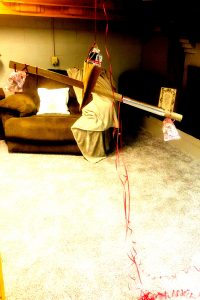 I watched my inherited grandson playing with David the other day. He had come up to me earlier saying, "I wanna make somethin'." Without wanting to unleash the box of craft supplies and its unholy possession of glitter and finger paints, I opted for the box of various gift wrapping supplies. Tape, wrapping paper, scissors, ribbon, and a misshapen collection of bags to be re-gifted all jammed into one plastic bin.
Sometimes, when life seems particularly out of hand, I think about this box stacked away quietly in a closet and say to myself, "see…you've got it together…you have a box at the ready for emergency gift wrapping situations." It never fails, however, and I usually end up needing to make a stop to buy another bag in route to an event where a gift is required because none of the ones in said bin fit the particular gift application. Nevertheless, this box is a great source of pride and comfort for me. I grabbed a bunch of things that had building potential. "Here you go!" I said, in my most disarming sing song voice, praying silently that he wouldn't see the demon glitter bin just underneath, "Go make something!"
He set to work with David's oversight. I busily set about doing adult things such as seriously considering getting some laundry done as I curled up on a chair to watch 'Despicable Me 2.' In between scenes of Gru learning to access vulnerability, and my internal considering of the laundry, I watched two generations of men "make somethin'" from the raw materials of my valued wrapping box. Good thing I have it…
The build project was rife with massive inefficiencies. Time and resources were mercilessly wasted. At one point, Trenton asked David to cut the cardboard tube, which once usefully held about 6 foot of wrapping paper (…that I might need at some point), into three separate segments and then, realizing his mistake, taped them all back together again like it never happened. Ribbon was wrapped around and stuck through holes, some intentional, some not. He was focused. His every decision was carefully weighed in the creation of what he said would be a "crane." He chattered away nonstop explaining his plans to David, talking through the project, and asking for assistance when larger hands were needed. David simply stood over him, letting him think and then obliging with a cut or a tie off as the project demanded.
David Beamed.
"Look at how he's thinking through just how he wants it," he said, "All I did was help where he needed it, but it's all his idea…his design…" more beaming.
I nodded in agreement that Trenton was indeed a very special kid, as the cardboard tube held together by scotch tape swung from miles of red Christmas ribbon in a kind of pulley system from my ceiling…a crane. If it had been presented to you as a prototype for potential investment, you would have declined…strenuously.
I watched my husband, his Papaw, swell with pride. I saw absolute delight. If you've never seen another person delight in something or someone absolutely, I recommend you start looking for it. You may need new friends. You will most likely need a different family.
It's the look I think God has when He watches us "make something." It's Him huddled over us absorbed in the process of letting us do it, hoping we talk through the strategy and waiting for us to ask for help…because our hands are too small and we can't reach the ceiling. He doesn't mind the mess, and He doesn't get snotty about the overuse of ribbon or needless cuts because He knows where there's more, and has enough tape to fix it…He's got a whole box.
He just delights. With no agenda and no end in sight, He knows we have been created in the image of a creator and He simply likes to see what we come up with.
Perhaps without knowing it, at some point, most of us decided to make something. We went to college, got married, or started into a career. Maybe we were brave and tried something big and new, or maybe the normal things of life were enough of a project. Either way, we thought we'd try. We were given a set of raw materials, probably the box without the glitter, and now stand in a life of our own making, an ongoing construction site.
There seem to be a couple ways of going about it. But mostly I think we miss the point. For whatever reason, we don't see God like Trenton sees his papaw. Parents, friends, and churches teach us instead that there isn't enough goodness in the box to be making sloppy mistakes, or that if God delights in us at all, it's because we were already good at making cranes in the first place. I remember growing up with the mantra that "God wasn't interested in my happiness, He wanted my Holiness"… to this day I wish someone would say that to me again so that I could kick them in the back of the knee. As an adult, I've had many shouting matches with those people in my car and, had they been present for them, they would have reconsidered their theology probably.
The good people I know are mostly afraid of making mistakes. They stop short, limit their exposure, friend groups, and efforts. They can't even get to "I wanna make somethin'" because they don't trust the God in them that made them "want" in the first place. They hand the scissors back and say, "I'll just watch you do it. I don't want to mess it up." While they make very few mistakes, I tend to think that God agrees with me when I roll my eyes at these kinds of people.
The rest of us isolate the whole process. We don't want help because that would require a willingness to unclench our jaws and ask…like we don't know what we're doing or something. We don't chatter along openly like Trenton, communicating without taking a breath, asking for help when needed. We hide our stupid little project until completely out of hand and then throw it back in despair, begging for the redemption of a mangled cardboard tube…or life…whatever.
The author Gregory Boyle says "How much greater is the God we have than the one we think we have…the truth of God seems to be about a joy that is a foreigner to disappointment and disapproval." How far is that from the God we learn about? He doesn't separate happiness and holiness; he winds them so tightly together that to strive for one is to be caught up in the other. So that to be given life to its full is to mimic a creator, and be joyfully unafraid of building, and growing, and doing in a world that is marked by the failure to get it right all the time.
God put us first in a garden and, while we were still quite capable of choosing life or death said, "Go make something." He didn't hesitate to give us authority, in fact, He insisted on it. And when we bend to the twisted pursuit of our own holiness, there we go again, making a brazier out of leaves to hide the inevitable shame.
I just sat there, on holy ground, watching Gru get married surrounded by minions, laundry forgotten, thinking that maybe life is easier than I make it.
It was always supposed to be a conversation. We have always been called to create. The life, the relationships, the business, and the family you have sit in stagnation or wreckage for lack of a vision and the sense to ask for help. And still, they can be unrecognizably resurrected when we get brave enough to co-create. He wants you to use your head and He wants you to use His hands. There is no waste in the mistakes. He's got enough tape.