2023 - An Evening of hope
KLove - 148 MInistries Indianapolis, Indiana

WRTV - Kaitlyn Kendall from WRTV for sharing our Fresh Start program and our partnership with 148 Ministries!
WISH TV - Greenwood nonprofit holds grand re-opening of 24/7 gym
daily journal article - 148 Ministries uses new facility ro increase outreach
2022 - An Evening of hope
daily journal article - Greenwood's 148 Ministries uses new space to grow impact
2021 - An Evening of hope
Daily journal article - Fitness, addiction ministry shares stories of recovery
2020 - An Evening of Hope
Daily journal article - Hope in hard times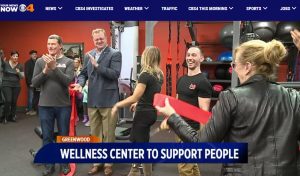 02.24.19
CBS4 – Wellness center in Greenwood aims to help those in need
02.23.19
RTV6 – Gym OPens to help women in greenwood
A gym in Greenwood opened to help women overcome issues in their lives.
02.21.19
Daily journal Article
Wellness center uses exercise, faith to combat addiction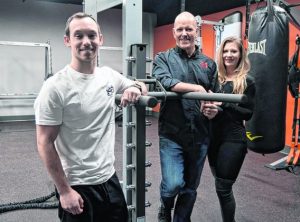 In the fight against addiction, abuse and sex trafficking, 148 Ministries has found powerful weapons in fitness and faith.
The Greenwood-based organization spends every Friday at the Volunteers of America's headquarters in downtown Indianapolis. Over the course of five hours, they offer exercise classes, biblical counseling and other support, working with the women who have been trapped in addiction or sex trafficking as they try to steer their lives back on track.
02.23.19
148 WEllness Grand Opening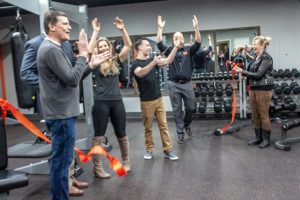 Visit the gym with a mission that is dedicated to using a holistic approach to improve the wellness of the community. Come check out our new space, meet the founders, sign up for membership specials, and learn how a portion of the gym's proceeds will help abused and addicted individuals in the Central Indiana area. 
When: February 23, 2019, 2 pm – 6 pm (ribbon cutting at 5 pm)
Where: 500 S. Polk St., Suite 40, Greenwood, IN 46143
01.05.19
148 Donation Workout
This is a donation workout! Only a $10.00 minimum for a fantastic workout where 100% of the proceeds will go toward 148 Ministries to offer fitness and spiritual support as a method of recovery for men and women suffering from addiction and abuse. Gift bags and water bottles for everyone attending & a raffle for a 148 Ministries t-shirt.
Location:  Brownsburg Fitness, 1650 E Northfield Dr, Brownsburg, Indiana 46112
Date: Saturday, January 5th at 8 am
10.13.18
Gathering at the Hope Center
Strengthening the Broken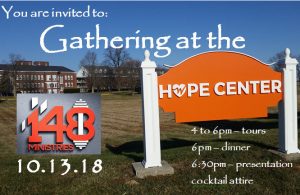 A unique opportunity to directly help the addicted and trafficked in our community. This experience will include tours of the Hope Center and the 148 Ministries studio located on site. You will meet Team 148 and hear from local community leaders. You will also hear powerful testimonies directly from the girls' Team 148 ministers too!
Corporate Sponsorship Packages
Gold Sponsorship – $1000
8 event tickets*
6ft booth at the event to promote your company
All event website presence
All event marketing online material presence
All event printed material presence (banners & programs)
148 Ministries website presence
Silver Sponsorship – $500
4 event tickets*
6ft booth at the event to promote your company
All event printed material presence (banners & programs)
148 Ministries website presence
Bronze Sponsorship – $250
2 event tickets
6ft booth at the event to promote your company
*Tickets may be donated back to the event enable some of our clients to attend for free that normally would not be able to attend.
10.03.18
Fox 59 Interview
Special thanks to  Angela Ganote  &  FOX59 News for doing a feature on  148 Ministries and promoting our upcoming  148 Ministries – Gathering at the Hope Center – Strengthening the Broken event! We would love to see you at the event at  Hope Center Indy. Here is the link to the video segment. Thanks for all your support!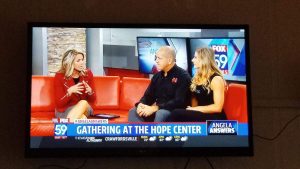 02.25.18
LaMonica Baptism
On Sunday, 2/25/18,  we were honored to celebrate with LaMonica as she was baptized! A few weeks prior, she gave her life to Jesus following the weekly church service we hold at Volunteers of America, Indiana in downtown Indianapolis. We are excited about her new life in Christ! Please partner with us with prayerful and financial support as we continue to reach out to women just like LaMonica every day. 
For any inquiries please
Contact Us
David@148Ministries.com
317-721-8998