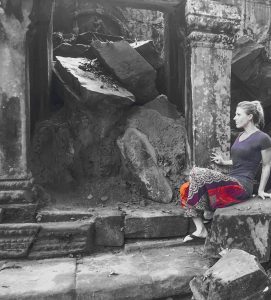 The question came simply enough, "So Amber…how did you stop purging?…"
She sat curled up on a single chair, her entire frame easily fitting its width. She had maintained that posture for most of the weekend, only briefly allowing herself to participate in the sample fitness classes myself and a few group instructors had designed for the purpose of introduction.
A few weekends ago, I was asked to give a testimony to the women at the Hope Center Indy and to share a little about 148 Ministries and the purpose of its formation. In that testimony, I happened to share that for 16 years I had struggled with bulimia…I say "struggle" only because it took no small effort to hide my habit, but, in reality, I was really quite surrendered to the obsessive drive to purge what, in shame and excess, I had eaten.
If you yourself have any experience with an eating disorder, then you know the absolute prison it is. You know the obsessive uncontrollable urge. You know the absolute hate you have of what you know you will always submit to. You know the insanely brilliant ways you develop to keep it hidden…to keep it fed. You also know that it has very little to do with food. It is a secret relationship you both need and despise. People are surprised when I tell them. They expect the bulimic to be skeletal, and I have never been described as anything but "healthy or big boned." For me, the binge always offset the purge, and my inability to become rail thin was just another in a long list of failures in my life. Such was the sick thought cycle that made constant circular trips through my mind.
I will save the repulsive methods and techniques for another blog with another purpose. It is important enough to mention that the shame and embarrassment ran deep enough to keep me secretly confined for years. Friends did not know. Family did not know. For 9 years of marriage my ex-husband did not know. While vulnerability and exposure may be the great healer, the disease is one of general mistrust and self-protection making the very tonic undrinkable.
I sat across from that lovely girl, only a year and a half from my own last purge, and helplessly searched for her answer in my mind. I wasn't sure I really knew… I wasn't sure I could put into words what finally killed the beast. I took a deep breath, and said the simplest thing I could to paraphrase almost two decades of war against myself.
"Well, hmmm…I guess I stopped trying to stop"
Brilliant…this poor kid is looking to you for help and you come at her with that psychological oversimplification …why don't you just read her tee shirt quotes for the next hour. At least that was my critical internal dialogue at the time. She and I talked for the next 45 minutes. In real time, I attempted to build out my answer in such a way that we both gained a clearer understanding of how I may have quit. Yet she was still hungry for answers and continued to bring questions that would make even a seasoned theologian re-consider their calling. I am not a seasoned theologian; I am barely an adequate theologian so I prayed desperately in those moments for either wisdom or at least a distracting explosion somewhere. No such luck. God calls us to work through our understanding and sometimes that is accomplished through awkward and ungraceful conversations. Sometimes it's just being present and listening and recognizing that there are no good answers.
I cannot explain the circumstances of this girl's life; I cannot even after hearing them myself explain away the brokenness of this ruthless world. I cannot tell you why she was there and I am here or why the degree of brutality life chose to bring her through made any comparative experience of mine seem pedestrian.
What I can say is that what put us on equal footing was the same struggle to gain freedom from the same prison. By His grace, in that moment, God walked me through an understanding of the healing only He can give. Healing I was too weak to even ask for, healing I was too helpless to even reach for.
Two years ago I was fatigued, and panicked, and broken by a broken marriage. I had up to that point, performed so heavily in my own strength, that I found myself completely paralyzed with exhaustion and self-doubt. The casualties of failure left me with nothing left to prove or pretend and I was altogether uninterested in continuing to force myself to be anything other than what, in genuine weakness, I genuinely was. Whatever hidden system of works I had used to keep a running equation of worth was dismantled. I was forced to accept that If God really loved me, then He was going to have to love the ugly version. He was going to have to love the girl curled up on the bathroom floor, crying, covered in her own vomit, and quitting.
I pulled away from that memory, Looked back up at this girl now not so different than myself and just said, "He does… he loves us when we are too weak to love ourselves and too hurt to love anyone else… When we are broken. When we are fearful. When we can no longer cover our flaws with good behavior or self-discipline. He is there with you on the bathroom floor…so you don't have to be afraid there anymore. You have no secrets. You cannot hide. You are not alone. You can stop fighting and start accepting that he has already won your battle. You can surrender this one and let him love you in the middle of the ugly."
He loves us perfectly in our imperfection. Not the future version of ourselves where we have hidden what we hate, but the real one…the one who is addicted, angry, and anxious. We are told by a man who knew Jesus himself that "There is no fear in love, but perfect love casts out fear." (1 John 4:8) You can choose to recognize this and stop fighting to make yourself worthy of recognition. You can stop operating out of fear, when you are no longer afraid of losing love. When you understand that God already knows that you are broken and doesn't need you to fix yourself. That is when I was able to stop purging, and that is when, regardless of the circumstances, you are free from the prison of your own making.